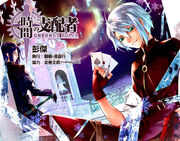 Chronos Ruler is a Japanese manga series written and drawn by Pon Jea. A one-shot titled Jikan no Shihaisha (時間の支配者, lit. "Time Ruler") was released in 2011, and published in Shounen Jump NEXT!. A series titled Chronos Ruler (時間の支配者, Jikan no Shihaisha, lit. "Time Ruler") is currently being published.
Synopsis (One-shot)
"Time" is beautiful, empty and cruel. Time cannot be reversed. But is that true?
Do you regret anything? Why don't you reverse time then and change what happened?
In Chronos Ruler, Koyuki—the main character—can no longer dance with her friends because she was injured after saving a child from a car accident. Watching them get ready for the show is so painful that she's tempted to go back in time and change what she's done. But is it really worth it? If you turn back time, no matter how regrettable it is, it can't be undone.
Synopsis (Series)
The story centers on "Chronos Rulers," those who fight the time-eating demons that appear when people wish they could turn back time. The Chronos Rulers fight a time-manipulation battle against these demons.
Manga
Main article: Manga
Anime
Main article: Anime
External Links